At the Outside Lands Music Festival in Golden Gate Park.
I'm mainly here to see Radiohead, but we're going to run around and try to see a few bands of the 9 playing today.
I'll try to update this as we walk from one place to another.
Here's our view of the stage for the Cold War Kids.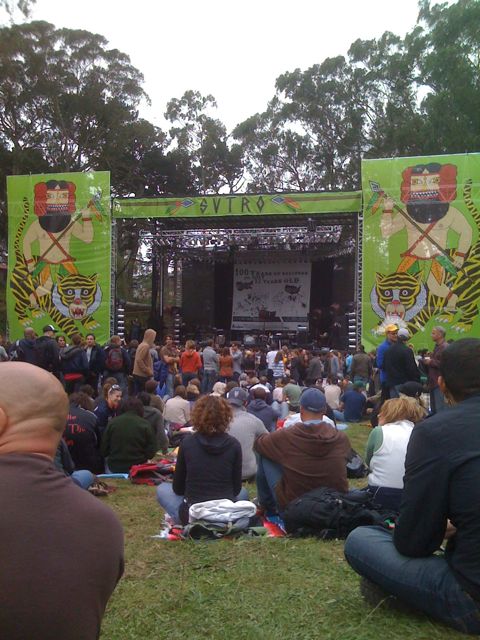 Unfortunately that's as far as I got before I think the park was overrun with iphone (and other mobile phone) users and my bandwidth capacity dropped to zero. I was a little bummed about that, but I was too busy watching the concerts anyway. I wish I could say the same for the rest of the people watching!
Concerts usually have a few of the same things that can annoy me: crowds, people taller than me, that one crazy woman that stands and dances for every song, and pot smokers. Festival concerts are like regular concerts but everything's increased by a degree. Crowds are larger: supposedly 60,000 people in attendance. Festival ticket prices are higher which mean more grownups than kids and since I'm short they're *all* taller. There are not just more than one crazy woman that stands and dances for every song, there are the *really* crazy women that dance between the songs to some music that nobody else can hear. And there seemed to be more pot smoke cigarette smoke.
Finally the nail in the coffin for my disdain of concerts is the festival atmosphere which means there are crowds of people that may not be big fans of the headliner (or any band) and are taken to wandering in and out of the crowds and generally talking during the performances. I don't know about you, but when I pay in excess of $100 with tickets, parking, food, drink, and merch I like to see and hear the whole set.
(And don't get me started on the hipster crowd. In fact, read this article from Adbusters about hipsters and weep with me for this generation.)
Question: Why do I put up with this?
Answer: Radiohead.
I like my music inaccessible, sometimes. Radiohead has some hits that get radio play, but they have a lot of music that is much more soundscape oriented and not really the kinds of songs that have a "snappy beat and you can dance to it." Their music layers guitars, synthesizers, drums, and vocals and it's very spooky and evokes a lot of complex emotions. They often do a lot of neat guitar tricks with an E-Bow (ebow.com, natch) and it adds to the ethereal sound.
Plus their way-back radio hit "Creep" was one of the first songs I played on the ukulele, and my version is the only one that will make you smile.