Flew into Calgary today a little late after some fog delays this morning backed up the planes at the gates. A last-minute gate change made everyone a little angry but I'm sure that's how we were only 10 minutes late instead of an hour. I had to gate-check my to-the-limit Briggs and Riley carry-on bag because the Bombardier jet's overhead bins barely fit my "personal item" bag. You can see how tiny the plane is here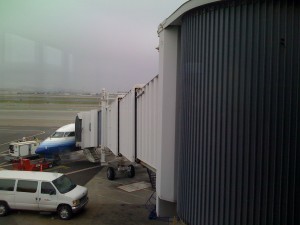 I got the most interrogation ever at the Canada passport check. I checked "Business" as the purpose of the trip and the official asked me to show any documentation regarding the business relationship between my company and the Canadian company. After I didn't have it, he then asked for a business card!
Anyway, a $40CAN ride into downtown and I'm checked in by 3:30PM. I chose the wrong 8th… 8th Street instead of 8th Avenue (the downtownish area), so my joke is my hotel is central — if you define central as equidistant from all the good stuff, but not next to anything in particular. Apparently there's a trendy restaurant district on 17th Avenue (I'm at 8th Street SW and 14th Avenue SW… which means there's potentially an 8th and 14th in the other quadrants… I know, it's evil), so I either walk up 3 blocks or down 6 blocks to get to something else. It's actually not too bad… if it's not snowing and windy.
I walked past the Mountain Equipment Co-Op which looks a LOT like REI. If this cold, snowy weather keeps up I may need to buy some new shoes.
I decided to hoof it out to the Stephen's Avenue shopping/food district which also includes the Calgary Tower which I might go to later in the week if I have nothing else to do, but maybe not since my only day with free time during the daylight was today. I will be working 9-6 (or so) every night this week.
Walked out to the Chinatown area along 1st Street uhh… can't remember which one. But it was getting cold, so I wound my way around to get back to the hotel. I ended up eating at Brewster's which apparently is a chain. Oh well. The Black and Blue burger plus sweet potato fries. The Blue Monk Barley Wine was also quite tasty, and 9.9% ABV yowsers!
Did I mention it's snowing? Horizontally I might add. I'm not used to this at all… wait, oh, I guess I did just go to Boston, and it was pretty cold there, but I didn't deal with snow.
Here's a small gallery of the rest of the pictures I took earlier this evening.