I've been somewhat busy recently, and I thought I'd let you in on a snapshot of what's been going on. I don't have a full time job right now, but I do have a few irons in the fire, so let's see what's up.

The main thing I've been working on recently is getting incorporated. That's right, I'm now a small business. I had thought about this for a while, and it was good to finally put it to brass tacks and the paperwork push to get it done. Now I'm my own boss and it's my responsibility to make this work and it's all mine to enjoy when it's successful. By being in charge, it means I get to set the rules, I get to accept the work, and most importantly I get to say no. I've decided much of the strife I've had with my prior jobs is because I didn't take a strong enough stand for myself.
My focus is to get back to my roots and work on computers for small businesses. The difference I want to bring is my experience in larger companies and especially focusing on the need for documentation and process to create a sustainable IT environment. In other words, I don't want to come in every couple weeks and just fix what breaks. I want to see what's working and what's not and optimize it. I want to be a partner that helps a company grow. It's ambitious but I think it's doable, and I'm ready to work towards it.
The math works out that if I can work 10-15 hours a week I'll be just fine as a contributing family member economically. That's not a bad setup in my opinion, but the hard part is booking those hours. Right now I'm looking at an average of 2 hours a week for the last month. Still, I haven't been hitting the streets very hard because my paperwork hadn't come in yet.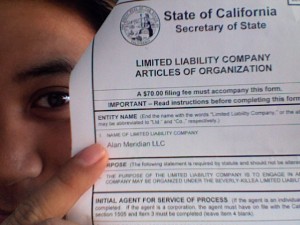 Speaking of paperwork, that's a wild ride. I did my incorporation through Intuit subsidiary MyCorporation, and it seemed like a good setup. I found out laterthere is a competing service endorsed by Nolo Press called The Company Corporation and that looks ok also. There's a good amount to figure out and definitely fees, but what I gain is a legal business entity, and with any luck protection from some taxes. Yay. To that end, my good friend Ted is helping me with some of the accounting matters, and while I have a good head for numbers, it doesn't hurt to have someone actually in the business to help.
Another potential source of income is something that I've always joked about but never formally looked into: voice over work. I was a college radio DJ, and I've always had an "announcer" voice. For a few jobs I recorded the voicemail greetings and messages just as part of the regular work. Apparently, that kind of work is in demand and is good money. To this end I'm taking a voiceover class this weekend and next with Susan's Voice Media, and I'll report on those soon enough.
I'm also still working on that stock market thesis, but it's slow going. I actually did get a rudimentary strategy together and even ran a couple stocks through the wringer this week made (a little) money! After I buy my happy meal, 'll analyze these here soon.
Through all of this, I have to thank one wonderful person. My wife Julie has been encouraging me right from the start of this new journey. I wanted to just pick up where I was, but she really showed me that I should want to be happy and not be afraid to take some chances. Because she's been so supportive of me, it's only fair I do my best to keep the house clean, the laundry done, and the meals prepared as well as get pretty good at neck and back massages. On top of this, she's done a brilliant job of putting on her designer hat and working on a proper logo for my company. You can see her work here on her blog. Isn't she keen?
(By the by, today July 16 is the twelve-year-and-six-month dating anniversary for us. Yep, 150 of the happiest months of my life.)
OK, that's enough talking about it, I probably have to get to it. Stay tuned for more updates, and I'll see you next bi-week.