Julie and I joined our friends Claire and Ted on a trip down to Los Angeles via San Luis Obispo last weekend Saturday to Tuesday. Last time I talked about the food, now everything else. Also… Pictures!

Our itinerary was driven by two things: wine tasting in the SLO region and The Tonight Show. Originally we wanted to have an excursion to Disneyland in there too, which in hindsight probably would have required another two days just for that plus another $600 each to clear park admission, hotel, and food. We'll have to just hold hands and wish some more for next year.
Our SLO leg was very pleasant. The wineries we visited were very nice in Paso Robles and had a very cozy and intimate feel for the most part. Doce Robles definitely had the most homey, DIY feel after talking with the vintner and how most of the grapes are grown there right by the production equipment. Eagle Castle won for architecture with the castle embattlements on all their buildings plus some cool vaulting of ceilings in their tasting room.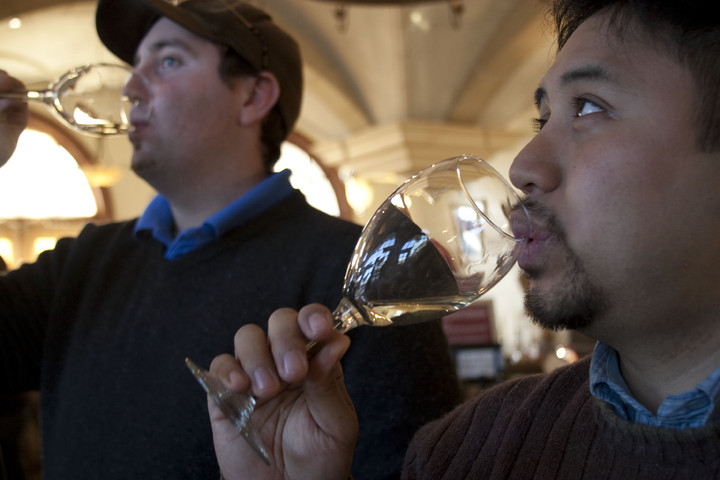 SLO downtown sights were passed mostly at night, and we were mildly disappointed that the awesome art-deco Fremont Theater was not playing the movie we wanted to see that weekend, but a night in playing cards was plenty fun. Also we figured out a way to play our favorite game (Pit!) with up to five players and a regular deck of cards. We also bought an 18-rack of Miller Lite, a pack of red cups, and a few ping pong balls in case the beer pong mood struck us. Having consumed a fair amount of wine and beer that afternoon and evening already, we didn't get around to it.
The drive to LA was not bad. We were tempted by the Pea Soup Andersen's signs but did not stop in Buellton. We switched onto the 405 from the 101 (it's So-Cal, you have to say "The" when describing the freeways) and headed down to the Getty Museum. The Getty has five buildings as well as large outdoor gardens. We probably could have spent all day there but only had about three and a half hours. We focused on the photography of Irving Penn who did a large black and white photo project photographing tradesworkers in their working kit and gear. We also took a quck run-through of some of the buildings painting and sculpture exhibits. The Getty is huge and the architecture is very cool. All the buildings are covered with slabs of natural stone which is lightly finished. You can still see artifacts of fossil remains in some stones. The painting galleries are all on the upper floors of the buildings so they can be lit from above with natural lighting controlled by shutters in the roof. The large garden area has views of LA as well as a variety of plants arranged in a balance between the natural and the planned.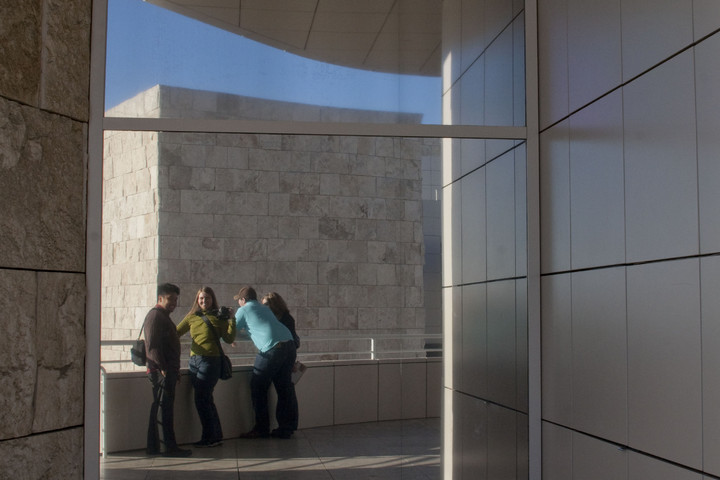 We drove down towards Hollywood via Mulholland Drive instead of the 101. While it was dark at the time, we did get a lot of views of very, very large estates as well as some nice vistas of Los Angeles at night. Our hotel was the Magic Castle Hotel. It's a small hotel a couple streets from Hollywood Blvd. at Orange, a very short walk to the famous Grauman's Chinese Theater. There's a pool heated at all times, 24-hour complimentary snacks and drinks in the lobby, and staying there gives you access to the Magic Castle which was the hidden highlight to the trip.
The Magic Castle is a magician's club, and they mean it. Normally, you can't get in without being invited by a member, and membership is limited to magicians who have to pass an interview and perform a 10-minute routine. We took the belt-and-braces approach staying at the Magic Castle Hotel as well as asking Ted's cousin Ricky to see if he could get us on the list. We had to dress up a little to get in (coat and tie for the men), but given the other members, we could have gone a lot further. Many people were out to the nines with more than a few tuxedos in attendance. It really felt like an exclusive club should feel: gorgeous people walking around, hushed conversations in corners, and magic! There were some people performing impromptu in among the crowds as well as magicians trading trick setups with each other and computer tips. Yep, Computers are magic, too. We saw two shows, a close-up magic show by Will Houstoun which was all sleight of hand tricks unaided by faked items, and a bigger show put on by Dave Cox with larger illusions and much more jokes.
Monday was our full day in Los Angeles but we had to be back in time for the taping, so we had the morning and some of the afternoon. We started at the Griffith Observatory which is located on a hill in Griffith Park, one of the largest parks in the United States. The Observatory has been in a bunch of movies as an LA landmark, and from there you get some good views of Los Angeles as well as the Hollywood Sign. They had blocked access to much of the Observatory while we were there, though, because a. it was closed being Monday, and b. they were dressing it up for the DVD release party for the recent Star Trek movie.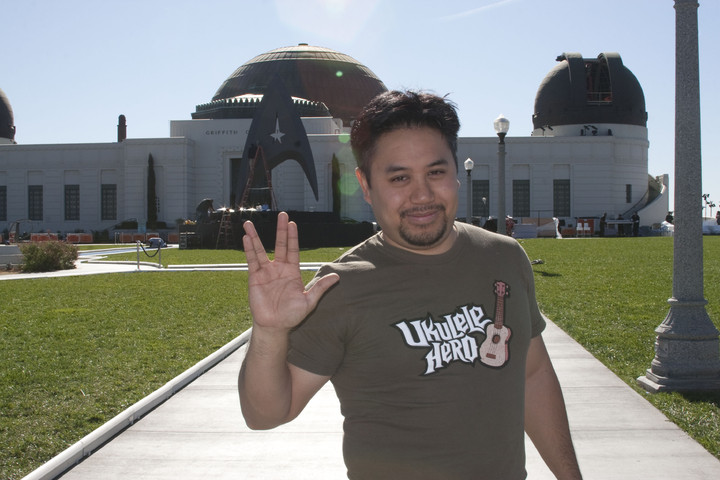 We drove further down on 101 to Langer's Deli for lunch on 7th and Alvarado which is right next to MacArthur Park then continued around and down Wilshire to the La Brea Tar Pits. We walked around the grounds and saw the large lagoon with methane still bubbling up around the diorama of a mammoth being pulled into the tar. Despite the man-planted park grass and trees, there is still some wild blobs of tar seeping up to the surface, and only some are fenced off so if you visit, watch your step. Also, some dog left a more recent shoe-hazard that Julie unfortunately found. We didn't go into the Page museum but walked around on top by the large carved panels showing prehistoric scenes.
It was about time to head back so we turned up Fountain and took surface streets back to the hotel and hopped on the LA Metro subway's Red Line to Universal Studios for our taping of the Tonight Show. Getting to Universal Studios via the Metro is super-easy. There was a very long line to wait in as we got there at about 3:15pm but we were informed the taping wouldn't happen until 5. We got seats in the very back, right side corner. The security is quite tight at the show, and they discourage any seat swapping and restrict use of cellphones and cameras very heavily. A few things were very interesting about how they run the show:
There is a brief crowd warmup by an announcer/comedian.
There's a band warmup where the Tonight Show band all enter and play a couple songs going around the crowd further warming up the crowd.
The applause light is on and flashing during the opener when Conan "complains" that we should settle down.
The shots of the audience are done with a fancy camera on a boom with a very wide angle lens to make the audience look huge.
There's a lot less room for unscripted joking during the monologue, so I appreciate it when Andy cracks Conan up.
The band plays during the breaks for commercials, and the breaks take approximately as much time live as they do when seen on TV.
The non-Max drummer plays barefoot.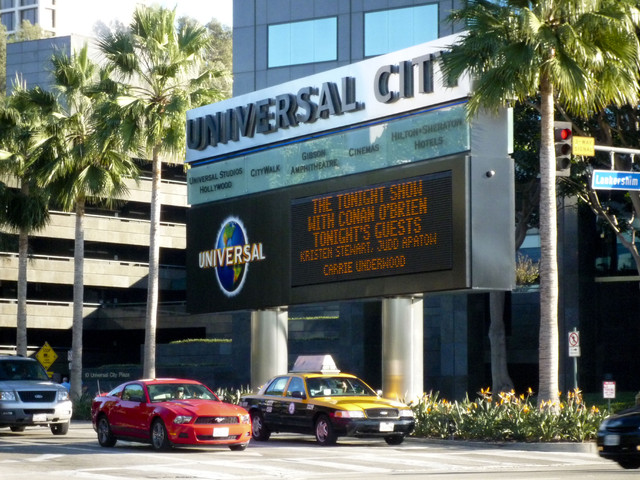 We took the metro back and we had planned to hit one more nightlife spot. A place called Three Clubs has a regular Monday night burlesque show called Monday Night Tease, and that week they were doing a special show in the style of the Muppet Show. We decided to drive out and eat down near the club and we parked on the street on a broken meter which was flashing "FAIL" which we all thought was really funny. We should have heeded the warning.
First FAIL of the evening was our planned dinner spot had a ridiculous price markup–as much as $10 above the prices we saw online. Apparently, this is done since they are hosting a band and there's a $10 cover charge which is waived with dinner. We skipped that place and headed down towards Three Clubs and ate dinner at what was the dive-iest fast junk food place ever. Three Clubs is a dark bar. I mean super-dark, like black painted all over the inside and tiny votive candles in red glasses. We got there a lot earlier than necessary but due to bad line management were allowed into the stage area towards the back of the group. When we decided we (and at least another 20 people outside) would be denied seats we got our money back and headed back to the hotel to avoid the imminent-fire-hazard. We spent the balance of the evening strolling down the Hollywood walk of fame and the hand and footprints in front of Grauman's Chinese Theater.
All in all, a really fun trip with really fun people. Another link to the pictures here.