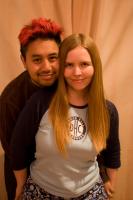 Today is a very, very special day. Seven whole years ago I got to stand up in front of a bunch of my friends and family and tell them that the person standing next to me is the kindest, most caring, most beautiful, most perfect match, and that we were going to be together forever.
Julie and I were married on Sunday 7 October 2001 at the Monterey Bay Aquarium.
Seven years have past and I just checked in… we're still together. (Phew!)
I love you, darling!