A couple weeks ago we went to Scharffen-Berger Chocolate Maker in Berkeley for the factory Tour. This was a birthday celebration for one of Julie's coworkers.
What a cool place! We had a great tour guide and had some tasty chocolates. Like all good tours it begins and ends in the gift shop where it is near impossible to escape without buying some chocolate. We got a little more than some. And good thing, too — we found a couple recipes off their site and made them for our anniversary dinner.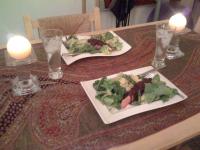 We made the Pork Tenderloin in Chocolate Sea Salt Crust with Mexican Chocolate Sauce and the Wasabi Pears in Deep Chocolate Pools and both were extremely good.
The pork starts off with making an impossibly salty crust (3 cups of sea salt?!) of flour and eggs and a half a bar of chocolate that the tenderloins are baked inside. The tenderloins are also covered in some chocolate and chili powder. After the baking's done, the crust is discarded and the extremely moist tenderloins are covered in a sauce made with onions, rum, cinnamon, orange juice, and honey… oh yeah, and another half bar of chocolate.
The pears are essentially poached in white wine (mmmm riesling), sugar, and a bit of wasabi. We then needed another bar and a half or so of chocolate to make a sauce. This one is just melted in a double boiler (to keep it from scorching) and then poured all over the pears.
We had to play with the timing a little — did the crust the night before then while the pork was baking inside it, we set up the pears and the chocolate sauce for the pork. As we ate the tenderloins we started the chocolate sauce for the pears, then had the pears with the sauce. Yum.
Definitely a lot of work, but it was worth the reward. Plus, in relation to the seven years Julie and I have been married, what's a couple evenings of cooking together?
Here are some pics of Julie at the factory, some of the chocolate haul, and the final products. There are more factory pics, and I'll post them once we figure out what camera card they're on.
For those keeping score, we probably had about 1.5 bars of chocolate (70% bittersweet or darker) each with all the chocolate involved. Let's just say I ticked up this week on the scale.