Five days, five primal dinners, five tweets, five dinner pictures. Julie and I set up the plan on Sunday and we knocked it all out over the week. Homecooking is so good.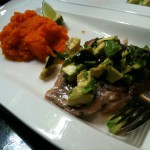 First up Monday was Red Snapper with avocado relish and carrot puree (recipe). The recipe originally called for "pollock" but red snapper was on sale, so we just did it. The nice bit was the kalamata olive addition to the "relish" — this we would definitely do again. The carrot puree was very molecular gastronomy. That's what we like about cooking at home. I'm sure this dish would have cost at least 3 times the price!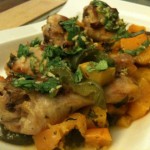 Tuesday we did the Cuban Chicken & Vegetables (recipe). This recipe is supposedly for four servings, but when we bought the chicken, Julie made a command decision to not cut it in half. That's my girl! We did cheat a bit and use butternut squash that was precut, but we made up for it by using juice squeezed from fresh oranges which means we were able to zest a little of the peel into the sauce. Yummy essential oils!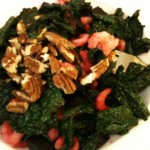 Wednesday we had a Warmed Roasted Beet, Kale, and Shrimp Salad (recipe). This took a little longer to prepare than expected as it roasts in stages over 40 minutes, but it was definitely worth it to get that slightly charred flavor out of the kale as well as the sugary tastes out of the beets.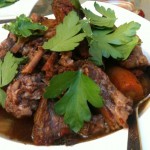 Thursday we had a Slow Cooked, Coffee Braised Brisket with Turnips and Carrots (recipe). The original recipe has potatoes, but to cut the carbs and increase the veggies a bit, Julie substituted turnips. Slow cooking is great because it's generally ready to eat almost as soon as we get home. The coffee flavor didn't really come through, but it was a very hearty stew. Lots and lots of good flavors.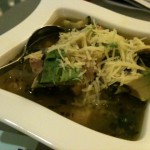 Friday was for Hidden Veggie Spicy Soup (recipe). The veggies are supposedly hidden because any veggies inside are supposedly overwhelmed by the other flavors involved and thus it's easy to add more veggies. I don't generally need such subterfuge to eat veggies, but I did appreciate the spicy flavors involved. We also added some shredded jack cheese and avocado which prompted me to dub it "tortilla soup sin tortilla" which tasted excellent.